Support us in saving our planet through your donation
Support the Daniel Schlegel Umweltstiftung in the fight against climate change! Through your donation, you directly contribute to the protection of our forests, reforestation, and the preservation of biodiversity. Act now for a livable future!
Humanity faces the massive challenge of climate change.
Climate change is already affecting your health today, through the increasing frequency of extreme weather events like heat, storms, and floods. These conditions lead to more frequent crop failures and diseases.
Problems like malnutrition, malaria, diarrhea, and risks from high temperatures are on the rise. It is expected that deaths will increase by about 250,000 per year between 2030 and 2050. Therefore, urgent action against climate change is needed! Our forests have been storing carbon for centuries through photosynthesis and binding it in soils and biomass. Illegal deforestation is greatly reducing our forests, thereby releasing stored carbon. As Pep Canadell from the Global Carbon Project points out, "deforestation in the tropics accounts for 20% of human carbon dioxide emissions." Peru is particularly worth protecting as it hosts 13% of the world's tropical rainforest area.
Bit by bit, forests are losing their fascinating abilities to regulate water quality, remove air pollution, prevent erosion, nourish soils, and create habitats for flora and fauna. In the next 10 years, our air quality will suffer greatly. Let's work together to preserve this vital habitat! By doing so, we could reduce our annual emissions by 13% to 20% by 2050. This is equivalent to ten times the annual emissions of Germany.
The loss of our forests threatens your health.
Our project in Peru aims to address this issue. We acquire rainforest areas in Peru to protect them from illegal logging. With your donation, we can protect more land!
How do we combat climate change?
The Daniel Schlegel Umweltstiftung is actively involved in environmental protection. With over 12 comprehensive environmental projects, we are gradually shaping a climate-secure future. Some of our services include:
Which projects can you support?
Agroforst - Bäume auf landwirtschaftlichen Flächen
Agroforstwirtschaft ist eine wiederentdeckte Tradition, die Pflanzen und manchmal Tiere auf derselben Fläche kombiniert. Dies führt zu synergetischen Effekten und erhöht die Erträge. Langfristig sind Agroforste profitabel und tragen erheblich zum Umweltschutz bei. Mit einer Spende von 50 Euro hilfst du bei der Pflanzung eines Obstbaums.
Baum-Pflanzprojekte für Kinder und Jugendliche
Nach der Gründung eines Permakultur-Gemüsegartens mit Delta Cultura 2020, haben wir Anfang 2022 eine Baumschule ins Leben gerufen. Hier kümmern sich Fachleute um die Aufzucht, Pflege und Weitergabe von Bäumen. Mit Aufforstungsveranstaltungen sorgt Delta Cultura für Aufklärung. Im Jahr 2022 konnten über 1.000 Bäume aus der Baumschule umgepflanzt werden, was das Mikroklima und die Grundwasserspeicher verbessert. Eine Spende von 7 Euro deckt die Kosten für Aufzucht, Pflanzung und Pflege eines Baumes.
Schutz des Regenwalds in Peru
Gemeinsam mit der GLS Zukunftsstiftung Entwicklung und der lokalen Organisation ACELPA schützen wir Waldflächen in Peru vor der Abholzung durch Großunternehmen. Dazu erwerben wir Grundstücke, siedeln Landwirte an und bilden sie in biodynamischem Landbau aus. So können sie in Harmonie mit dem Wald leben, ohne auf Holz oder Weideflächen angewiesen zu sein. Mit 20 Euro kannst du 500m² Wald vor der Abholzung schützen und den Lebensraum von Menschen und seltenen Tierarten bewahren.
Agroforestry - Trees on agricultural land
Agroforestry is a rediscovered tradition that combines plants and sometimes animals on the same plot of land. This leads to synergistic effects and increased yields. In the long term, agroforests are profitable and contribute significantly to environmental protection. With a donation of 50 euros, you help with the planting of a fruit tree.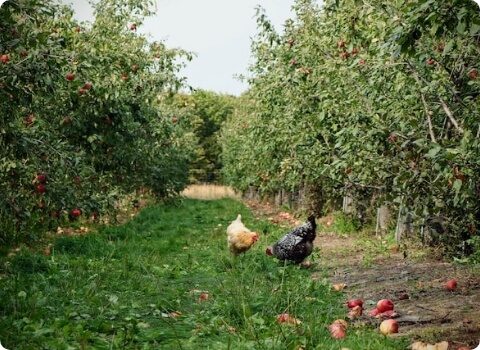 Tree-planting projects for children and teenagers
After establishing a permaculture vegetable garden with Delta Cultura in 2020, we launched a tree nursery at the beginning of 2022. Here, experts take care of the cultivation, maintenance, and distribution of trees. Through reforestation events, Delta Cultura raises awareness. In 2022, over 1,000 trees from the nursery were replanted, improving the microclimate and groundwater storage. A donation of 7 euros covers the costs for the cultivation, planting, and care of one tree.
Reforestation Projects/Forest Protection
The Daniel Schlegel Umweltstiftung actively engages in reforestation projects and forest protection measures worldwide, with a focus on integrating local communities and holistically preserving ecosystems. By combining environmental protection measures with socio-economic aspects, such as job creation and food production, the foundation aims for a sustainable improvement in both the living conditions of people and the state of the natural environment.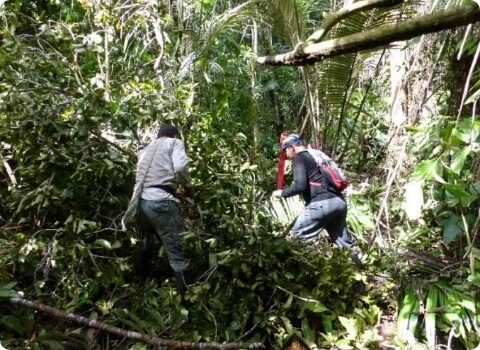 Together we can save the climate.
We have already achieved a lot for environmental and climate protection. However, we know that we need to do even more to secure our future. In many countries, the challenges posed by climate change are increasing, biodiversity is declining, and both nature and humans are suffering.
With your support, we can change this. Together we can carry out projects that make a difference and ensure sustainable development. That's why we're glad you're here.
The future needs nature. And nature needs you. Support our work!
100% of your support goes where you want it to go - to protect the environment.
When you donate to the Daniel Schlegel Umweltstiftung, your donation is used exclusively for nature and animal protection—both in Germany and internationally, as we cover our administrative costs entirely from our own resources.
Your donation is also tax-deductible. With your donation, we enable further effective climate protection projects and make important contributions to the preservation of biodiversity.
Your donation, whether large or small, can make a difference. For example:
Your support helps us reach the goals of the Paris Climate Agreement and preserve our livelihoods. Please donate today and help us preserve the planet for future generations!
THANK YOU FOR YOUR SUPPORT!
Every donation is important and helps us achieve our goals. We thank you for your commitment and support.
Whether you donate, share our projects, or get involved in our activities – you are part of the solution! Your engagement contributes to protecting our planet and securing a livable future for all people.
The Daniel Schlegel Umweltstiftung is grateful for any support. Together we can combat climate change and preserve our planet!